Welcome to GasMasksAndFilters.com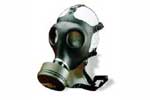 Gas Masks and Filters is your online shopping source for not only gas masks and filters, but all things related to personal protection.

We specialize in gas mask kits. In the event of a nuclear, biological or chemical (NBC) situation, gas masks - depending upon the style - provide protection for the respiratory system and eyes. Our kits include not only a gas mask and filter or canister, but chemical suits or NBC suits, rubber chemical-resistant boots and gloves. Protection for the entire body - not just the eyes and lungs.

Are you looking for an Israeli gas mask, or a Soviet GP-5? An SEA Scott NIOSH-approved full-face respirator? How about a charcoal-lined NATO MKIII chemical suit?

Do you seek a gasmask designed especially for children or youths? Or how about a shelter with an NBC filter that is designed specifically for pets?

Do you need a 40mm thread gas mask filter? A 60mm filter, or a Type 80 canister? How about a gas mask adapter that allows a mask that normally takes a 60mm thread canister to utilize 40mm thread filter?

Reduced prices on wholesale lots of gas masks, decontamination lotion, steel military helmets, quick-DOFF chemical hoods, chemical agent detector kits or gas mask hoods - whatever you are looking for, chances are www.GasMasksAndFilters.com has it. If you don't see an item you're interested in on our web site, please contact us - we may have it available but not yet updated our online inventory.